Social Contribution Activities
Providing Support for an Aging Society
France Bed Medical Home Care Research Subsidy Foundation, a public interest incorporated foundation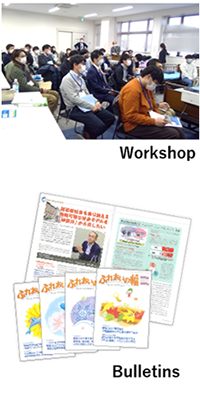 France Bed Medical Home Care Research Subsidy Foundation not only promotes business and research with regard to home care and special needs products, but also undertakes efforts to hold lectures, training and other activities at the community level. In addition, we strive to create an environment that fosters self-reliance and independence by providing a platform for the elderly to participate in sports activities, artistic pursuits, and other activities and events, which all help to contribute to a better quality of life.
Showcasing Important Cultural Properties
Furniture Museum, a general incorporated foundation
The Furniture Museum was established in 1972 under the cooperation of France Bed Group companies for the purpose of showcasing antique, regional and traditional furniture and educating future generations about the cultural importance of such furniture. In March 2005, the museum was relocated to the grounds of France Bed's Tokyo plant.